Choose a suitable colour for your smartflower and take a look at it from different angles by smartflower 360º animator!
SMART USE
smartflower POP is delivered as an all-in-one complete system and is operational within an hour. No complex assembly is required: the system is firmly bolted to the ground (or concrete foundation) at the location of your choice. It is designed for maximum performance (see also smart tracking, smart cleaning and smart cooling), and it is easy to use and maintain. It reliably provides electricity throughout the day.
SMART TRACKING
Thanks to the astronomical control system, the solar modular fan moves horizontally and vertically along with the sun's position, even when it's cloudy. This guarantees optimum alignment with the sun – an exact 90° angle – during the entire course of the day, even when the sun is low on the horizon in the winter. The result: despite the lower space requirement, up to 40% more output as compared to that of a conventional rooftop system, which is only ideally positioned towards the sun for a few hours per year.
SMART CLEANING
smartflower POP easily rids itself of dust deposits or snow by folding and unfolding itself. Thus, common losses in energy production (up to 5%) are minimised.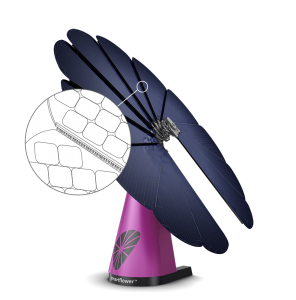 SMART COOLING
Hot modules deliver less electricity than cool modules. 10°C more means 5% less output. The modules of smartflower POP are always rear-ventilated – hot air cannot accumulate due to their construction. This means they are 10-20°C cooler and deliver 5-10% more output than rooftop systems.
SMART SAFETY
In continuous operation, the sensors permanently monitor the wind speed. In winds above 54 km/h, smartflower POP automatically folds into its secure position in order to avoid damages. If the wind increases further, 63 km/h or more, it takes up the secondary security position (same as night position). The sensors continue to function and when the wind decreases, the system folds out completely and returns to its electricity-producing tracking position.
SMART MOBILITY
A significant advantage over fixed rooftop systems: smartflower POP is mobile! When you move out, simply take your private solar plant with you. Disassembling smartflower POP is just as simple as assembling it: just unscrew the four anchoring bolts and cart it away. And naturally the ground can be easily restored to its original state.
---
Simple like a normal home appliance – the world's first all-in-one solar system
Wouldn't it be wonderful if each of us could produce all clean energy we need right in our backyards? And wouldn't it be a cherry on the top if the same photovoltaic system could simply be plug-&-play like any other normal home appliance?
At smartflower, we have stopped asking such questions. Instead, we have answered them – with smartflower POP, the world's first all-in-one solar system.
Thanks to the extraordinary construction:power for an entire household
Thanks to its extraordinary construction and the perfectly synchronised components, the system delivers, on an average, approx. 4,000 kWh per year, thus fulfilling the complete average electricity requirement of a household in the central European region.
A real turning point: achieves a degree of self-utilisation of around 60%
 smartflower POP represents changing times. The size of the system alone is no longer the measure of all things. What counts is a fairly constant production rate during the course of the day, in order to enable a more effective use of the produced energy.
smartflower POP achieves a degree of self-utilisation of around 60% – a significant improvement over a comparable rooftop unit, which averages just around 30%. Now that is what we call smart!
5 reasons why you should 
buy smartflower POP
All-in-One solar solution without extensive installation (Plug & Play).

Efficient energy production: up to 40% more output due to innovative smart tracking, on demand exactly when you need it.

Thanks to smart cooling and smart cleaning, common losses in output due to heat and contamination are prevented by up to 15%.

Ideal if your roof is not an option (installation, aesthetics, rental property): smartflower POP can be set up in the garden and can be taken along when you move.

Made in Austria to the highest quality and with the best support from local dealers.